Chicago Flute Club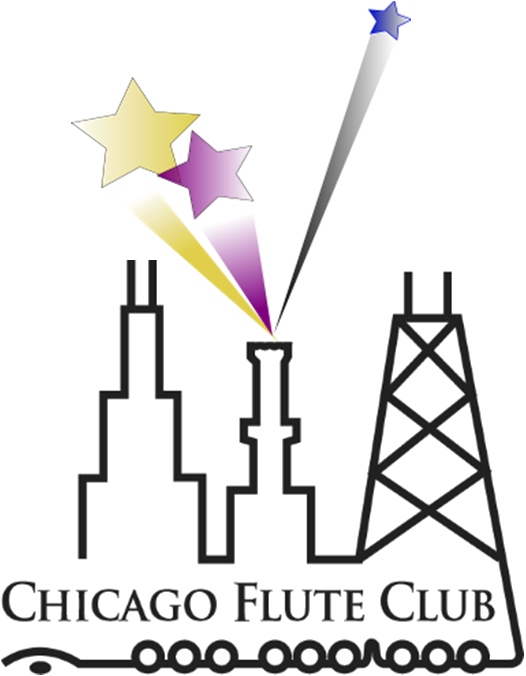 The Chicago Flute Club seeks to foster the highest artistic potential of all its members through teaching, listening and performing. We provide a forum for activities of interest to flutists of all ages and abilities. Our activities are designed to promote, encourage, and nurture appreciation of flute music and technique, as well as provide an opportunity for social interaction among flutists.
Activities that the club offers:
Become a Member
The Chicago Flute Club welcomes you to experience an incredible year with our biennial flute festival From Chicago to the Cosmos and Beyond…, the continuation of our innovative Fluting with the Stars series, educational Flute Forums, high-level competitions, and fun flute choir reading sessions. This season we are offering virtual masterclasses, workshops, and events with some of the finest flutists from around the world to inform and enlighten our valued members. Recordings and other resources from these events will be available for viewing to our members only. Not only that but members will also be able to access all the recordings from the 2020-2021 extraordinary Fluting with the Stars and Forum series. Our quarterly journal, Pipeline, will keep you informed about flute news and events, as well as provide information on services and opportunities available to you. And, of course, we will once again, host our Annual Student Competition and the Donald Peck International Flute Competition. Members will be invited to perform in an Online Flute Choir as well as our Annual Member (Virtual) Showcase. As you can see, now is a great time to join the Chicago Flute Club and enjoy a full year of fascinating flute events!
Click here and scroll down for all membership options and pricing information.
---
National Flute Association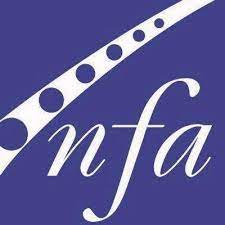 National Flute Association Website
The National Flute Association (NFA) was founded in 1972 as a common ground for flutists to exchange ideas and inspiration and has expanded in the decades since to include a quarterly magazine, an annual convention, and a dynamic assortment of scholarship programs, commissions, and member-driven initiatives. More than 3,000 people from all 50 states and more than 40 countries are NFA members, including leading soloists, orchestral players, jazz and world music performers, teachers, adult amateurs, and students of all ages. With 27 committees and more than 400 volunteers and appointees, the NFA finds its heartbeat in its members, who keep the gears turning at full speed with their passion and limitless supply of ideas. The NFA values and celebrates the contributions of all its stakeholders and is committed to growing as a diverse and equitable organization.
Internships
NFA internships are a great opportunity for undergraduate or graduate students to gain valuable experience in arts nonprofit administration. The NFA offers a fun, supportive environment for interns to build skills and explore career opportunities in the music world and beyond.
The NFA offers two internship programs: Office Internships and Convention Internships. To read more about these unique opportunities click here.
Scholarships
The NFA provides financial support for promising students with scholarships named after flutists whose involvement in the NFA helped shape its vision and energy.
The Frances Blaisdell Convention Scholarship, named for the pioneering pedagogue and flutist, provides financial assistance to a U.S. student to attend the NFA convention.


The Myrna Brown International Scholarship, named for the NFA's first executive director and a passionate advocate for cultural exchanges through music, provides financial assistance to a flutist from a non-U.S. country to attend the NFA convention. Scholarship awarded biennially.
The Geoffrey Gilbert Scholarship prize is awarded to the NFA High School Soloist Competition first-place winner for further flute study with any teacher who is a member of the NFA. More info can be found on scholarship page.


The Deveau Scholarship is awarded for the outstanding performance of the NFA High School Soloist Competition commissioned work.

More info can be found on

scholarship page

.




The First Generation in College Scholarship aims to support and develop educational and career opportunities for talented, first generation in college students.
Quarterly ITG Journals:
These 100+ page Journals feature regular columns, host discussions on all things trumpet, and cover various topics. ITG Print memberships include print versions of the ITG Journal.
Unrestricted site access:
Explore the multiple areas of our website without hindrances!
NEW ACCESS TO THE COMPLETE ARCHIVES OF THE ITG JOURNALS from 1975 to the present, including over 60 pieces of sheet music.
Exclusive discounts:
Receive discounts to the ITG Annual Conference.
Free extras:
New music, booklets, and workshops!
Free Music Download of "Military Band Excerpts for Trumpet " will be available to all 2020-21 members beginning May 1, 2021!
Click here to join now
Examples of typical positions seen on the NFA Job Board include teaching positions, flute manufacturing jobs, arts administration positions, performance positions such as principal or second chairs, graduate assistant positions, or music librarians. We welcome other types of positions that align with the criteria stated above.
Click here to submit a job notice.
Click here to search job postings.
Once your listing has been submitted, it will be approved or denied within the next two business days. Approved listings will immediately appear on the board. For listings that are denied, you will be notified as such with an email and the chance to update.